Are you looking for the best Slide Gate Valve manufacturers, suppliers and exporters in India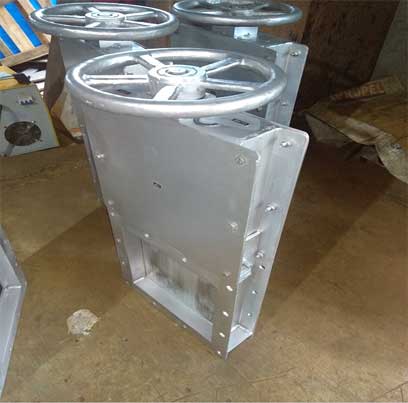 We are the leading Slide Gate Valve Manufacturers, suppliers, exporters in India, Bangalore, Chennai, Hyderabad, Kerala, Telangana, Coimbatore, Ahmedabad, Vadodara, Dubai offering a wide range of slide gate valves at the best price.
We at Rotech are prominent Slide gate valves Manufacturers suppliers, and exporters in India. By understanding safety standards, norms and technological demands, we deliver most effective and the highest quality valves at the best prices. All these valves are made up of top grade raw materials. For smooth, reliable and easy operation, slide gate valve is an ideal solution.
To handle large amount of dry powders, granules and other materials, we specially designed the premium slide gate valve which is a mechanical device that installed into a system to provide on-off flow operation. It involves side plate which is made up of stainless steel material to close or open flow of the material.
What are the top benefits of slide gate valves?
Slide gate valve is also known as a sluice valve which is made with light weight for fast installation. Thus, it helps to reduce costs and maintenance.
We manufactured bidirectional slide gate valve that can be used in two directions.
Having fully opened or closed services.
Our slide gate valves are available in several styles such as rectangular, round, flanges, wedge etc.
Highest accuracy with great efficiency.
These slide gate valve are corrosion, chemical and abrasive resistant that provide longer life.
Manually, motorised and pneumatic operated.
Uses of slide gate valves
Handling bulk materials
Cut off bulk materials for next processing
Isolation of solids
For controlling or stopping flow of abrasive slurries.
We are a leading Manufacturer of slide gate valve, pneumatic slide gate valve and motorized slide gate valve from Pune.
| | |
| --- | --- |
| Opening Size | 200x200, 300x300, 350x350 , 400x400 , 500x500 , mm |
| Flange Opening | Circular / Square |
| Differential Pressure | Higher Pressure handling capability |
| Temperature | Build to eminent Temperature |
Features
Body Material: MS (ISMC channels), SS 304/SS 316
Gate Materail: SS304 / SS316 / SAIL Hard plate / Nitrided plate
Spindle Material: EN8 / SS304
Rollers or Liner: Standard
Seat: Integral to body
Gland Packing: Cotton Graphite Rope / PTFE packing
Hardware: Standard