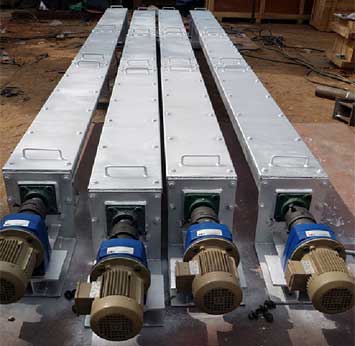 We are the leading Screw Conveyor Manufacturers, suppliers, exporters in India, Bangalore, Chennai, Hyderabad, Kerala, Telangana, Coimbatore, Ahmedabad, Vadodara, Dubai offering a wide range of Screw Conveyor at the best price.
We at Rotech are leading Manufacturers, suppliers, and exporters of Screw Conveyor in India, Dubai. Enriched by experienced professional team, we manufacture a wide range of screw conveyors which are made up of the best quality raw materials to provide longer life service and extreme durability. The offered range are fabricated in accordance to set the industry norms and standards. Screw conveyors are used to move the materials such as semi-solids, dry powders, food waste,and granules in efficient way.
It consists of rotating helical blades mounted in the tube for movement of the materials. They are also designed with the hallow shafts for heating or cooling media. Our screw conveyors are widely found in the waste matter, fuel, food processing, pharmaceutical, wood, plastic or rubber industry. We supply a comprehensive range of these conveyors to many industries at reasonable rate.

A screw conveyor or auger conveyor is a mechanism that uses a rotating helical screw blade, called a "flight", within a tube/pipe or U-trough to move powders and granular materials. Screw conveyors and auger feeder are used in many bulk handling industries; in modern industry, it is often used horizontally or at a slight incline as an efficient way to move various materials. They usually consist of a U-trough or pipe containing a spiral blade coiled around a shaft, driven at one end and held at the other. The rate of volume transfer is proportional to the rotation rate of the shaft. In industrial control applications, the device is often used as a variable rate feeder by varying the rotation rate of the shaft to deliver a measured rate or precise quantity of material into a process. Hence, screw feeders are exclusively used for both the material dosing applications wise loss-in weight dosing and gain-in weight dosing.
Features and Benefits
Specially designed for smooth and reliable operation.
Fabricated with jacketed to heat or cool the materials while conveying.
Reduced production and maintenance costs with enhanced productivity.
Screw can be easily removed for the cleaning.
Horizontal and slight inclination for passing the materials.
Rugged construction provides longer life.
Easy to Clean : Simply open the hinged covers to access the auger/screw.
Heavy Duty Construction.
Bottom Cleanout for ease of drain at wash-down.
Efficiently distributes bulk materials to various locations using multiple inlet and discharge points/strong.
Totally enclosed for dusty, corrosive, or hazardous environments.
Totally Portable (caster wheel design).
Applications:-
Steel Plants
Cement Plants
Power Plants
Pulp and Paper Mills
Sugar Mills
Waste water treatments
Mines
Process Plants
Material Handling Equipments
Pneumatic Conveying Equipment