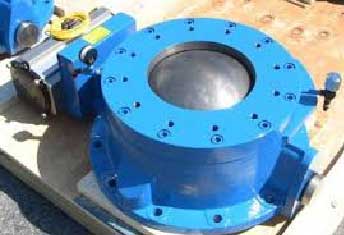 Dome Valves Manufacturers, Suppliers, Exporters in India
We are the leading Dome Valves Manufacturers, Suppliers, Exporters in India
In-depth industry knowledge, Rotech Engineers are leading dome valve manufacturers, suppliers, exporters in India, Bangalore, Chennai, Hyderabad, Kerala, Coimbatore, Telangana, Ahmedabad. We offers an expansive array of dome valves for a various kinds of industrial as well as commercial applications. The superior quality raw materials are used for manufacturing of dime valves in compliance with an international standards.
Dome Valve is unique in its ability to open and close with a tight pressure seal in pneumatic conveying systems for abrasive materials. No other valve can achieve as long of a life in harsh environments like the Dome Valve.
ADVANTAGES
Leak-Proof: The inflatable seat valves ensure leak-proof sealing in continuous operation while operating to isolate a pressure differential.
Complete Opening: The Dome Valve inflatable seat valve is completely open and does not restrict flow when open. The closing spherical member is open away from the flow of material and is unaffected by media flowing through the valve. When the valve is open there is no restriction to the flow of the material.
Zero Contact: The inflatable seat is not in contact with the closing member during opening and closing. The closing position is reached only when the inflatable seat engages the closing member reducing the wear.
High Temperature: Applications upto 380°C can be provided without damaging the inflatable seat elastomer. This achieved by a unique water-cooling process to the spherical component and the elastomer housing.
High Pressure: Applications up to 20 bar(g) can be provided.